Why leave your sofa? Check out these cool web and net shows!

There's not always something going on at Players but they have a great camera interface. Shortly after you load the page (depending on traffic) you will gain control of the camera for a specific amount of time. While in control you can move the camera in any direction, zoom in and zoom out! It's pretty cool! Click here to check it out.

While it's not a web cam it's been an intersting story. It wasn't too long ago, reports came out about Sony camcorders with the night vision feature could be outfitted with a special filter (originally designed to lessen the green glow that accompanies night vision technology) and you could see through clothing. Yes, that's old news (you can read the article by clicking here). The problem was how to determine if it worked without spending $1000 to $1500 for a camera!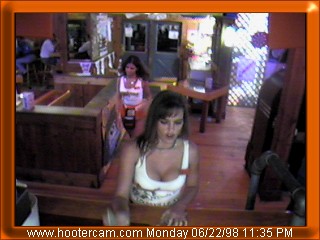 Yes, Hootercam has returned! This time they are broadcasting live from Denver, Colorado. I think they were in Kentucky last time, it has been awhile, I don't quite remember. Anyway check out Hootercam.

Ok, now they've not only removed the UFO Attack game, you can't see the daily archives. I guess the traffic can kill ya. But all is not lost, check out the All things Hooters super link list!
The Hermosa Beach Strand Cam is pretty cool on the weekends, even though the information isn't updated very often the pictures come in every 10 minutes.

For some office gossip stop by the Amazing Coolercam. Nothing happening late in the evening but it's pretty cool during working hours so check your clock, they're mountain standard time.

Check out what's going on along Bourbon Street via Bourbocam! Nothing like watching people lift their tops for beads from the comfort of your own home. Watch Mardi Gras as it happens!
Check out some of the Spring Break festivites and bikini contests at Club La Vela in Panama City Beach, Florida!
Some Interesting Toys and Machines
Check out Interactive Model Railroad from the University of Ulm. Unless someone has derailed the train you can move it from station to station and view the track in real-time.
Exact change only? Check out the Coke Machine in Copenhagen. They actually interfaced a system with the Coke Machine to monitor it's status. It's actually kinda interesting how they did it...
---
Almost Web-cam/ Internet Shows
For a Real World like experience from Texas, try Austin. Thirteen people broadcasting various episodes of their lives in a variety of formats including Vivo and RealVideo.
If you have a high speed connection or plenty of time on your hands, check out some of the rather strange video shorts like 'Nude Handyman' at Camnet. From what we can tell your only choice is AVI files and you have to download the entire file before you can play it.
[Front Room] [Gadgets] [Games] [Webcams] [Security] [Personals] [Sports] [News]
©1998,1999 Fatsofa Studios. Please direct all questions and comments to our webmaster. Thanks for stopping by!